I teach a class at UT Austin called "lean startup", I also help run the UT Texas Venture Labs and I volunteer at Capital Factory. I mentor or advise dozens of startups. I also run my own startup and have started 3. All this is to say, I am plugged in to startups in Austin. As with all my blog posts, this is not anything official from UT or anywhere else, just my own opinions.
I see probably 50 (or more) startup pitches per year. One thing I have noticed recently, since Venture Capital has mostly dried up in Austin and worldwide, people have stopped thinking big. I see so many deals where "the startup" is really "a product or service". For example, your app idea, your IoT idea, your new restaurant concept, and so on. If it could be done on Kickstarter or bootstrapped in a year or two, it's probably not big thinking.
This article is a call to get entrepreneurs to THINK BIGGER! It is also hopefully a few tips for entrepreneurs to do just that.
First, let me explain what I consider 'small thinking'. Small thinking is when an entrepreneur is so focused on 'the first product' or 'getting to revenue' that they fail to communicate (or possibly fail to think) what the big picture is. If you are not thinking past 'your first move', you are playing Startup Chess with a massive handicap. If you don't have 'a second move', you are failing to plan. In both cases, you are not THINKING BIG!
Now, let me explain what I consider 'big thinking'. Big thinking isn't doing, it's thinking, and maybe talking. Doing is what you are doing first and now (probably being Lean and Agile and building an MVP and focusing on Getting Customers and Feedback)… all very smart and important stuff. However, while you are off 'Doing' that important stuff, you should be 'thinking' and probably 'communicating' your big vision a bunch more than you are.
Big thinking is having a big vision for wanting to 'change' something. 'Change' is the operative word, and it implies a disruption in the status quo. Big thinking is having 'the end in mind' before you begin. This is more than a personal financial goal (which is also important). This is understanding where your company might play in the big picture of the world. This requires understanding 'the world' e.g. your market today, and where your market will be after you have risen to power and achieved your 'big vision'.
Here's the problem. Many companies in Austin simply do not have this 'big vision' in mind for their company. I ask you, how is your company going to change the world? How are you going to "shake up" your industry. If you do not have an answer, then you are not Big Thinking.
I urge you now, go out, and think bigger! If you do it, WHILE staying focused on "DOING LEAN" there are so many awesome benefits. Here are some personal examples I will share.
At my first company, Bigfoot Networks, our "big vision" was to End All Lag! In fact, we even had a website, t-shirts and events, all around "Ending Lag Now!". We had a clear big picture mission, near 0-latency & 0-lag online gaming. We were going to change the world… and as a result:
The press cared about our story… even though many didn't believe we could do it, it was still a story (rather than a non-story).
Employees LIKED working for Bigfoot Networks… we all understood our mission and it gave us energy to tackle the day-to-day "Doing" because we knew where we were 'Going'.
As a result, my attrition rate was lowest at Bigfoot Networks than any other company. And my recruiting was the easiest.
I was able to raise 'big' VC money, not because of our results (which were average), but because of our vision (and technology to back it up).
At Karmaback, my second company, our vision was also clear… we wanted to 'Prove Social Marketing Works", and create analytics behind social network marketing. What is interesting here is that we did so many 'day to day' "Doing" that did not line up with this goal (to pay the rent) that we ultimately lost sight of this vision… when that happened, we had to sell the company. It just wasn't honest to say "this contracting job" had anything to do with our vision. Had we stayed truer to our vision, Karmaback probably would have been even bigger and sold for much more.
So, I hope you can see where I am headed. Have a big vision, execute on a plan towards doing it, and change the world! If your company does NOT have a 'change the world plan'… maybe it needs to get one. Personally, I am on a mission to make sure all my endeavors have one. At U.T. Austin, "what starts here changes the world"… and I'd like to see all of Austin take the charge and "THINK BIGGER"!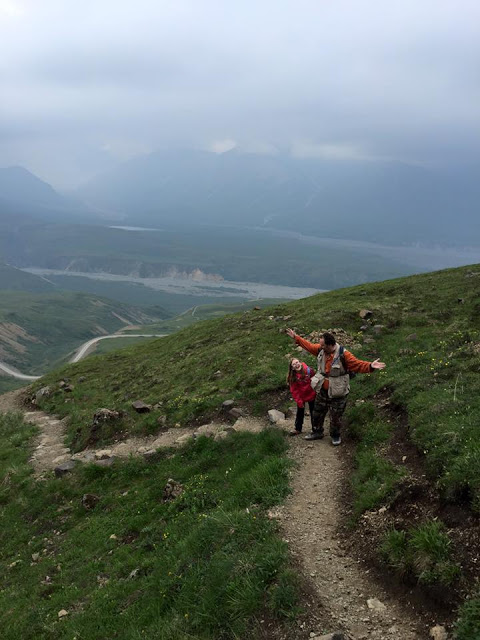 Harlan T. Beverly, PhD + Daughter, think BIGGER in Denali National Park