Loot is the stuff you get for doing the stuff you like. In video games, it's usually a "just slightly better" piece of armor, or "a little bit of coin". Hundreds of Millions (if not Billions) of people aged 4-40 (and above) play games with loot. My company, Karmaback, has loot too… and a new kind of game altogether. Marketing to a new generation of thinkers. People who "get it". Gamers.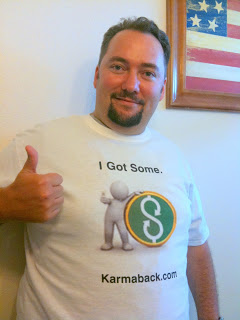 Karmaback is a game in one sense only: you can EARN loot. That's me sporting some of the REAL WORLD loot you can get.. yah, it's just a t-shirt… but it's more than that. Its a symbol of TRUTH, that you can "do stuff on karmaback" and get "real loot".
So,
learn about Karmaback
, how we reward END USERS with points… points they can turn in for real loot. And learn how Karmaback's loot can help YOUR BUSINESS grow!
Awesome.